First Time Storing
What is self-storing?
Self-storing is facility that will provide a storage unit for your use with additional amenities of moving your items to the facility from another location.
How to determine unit sizes
How long do I need a storage unit?
Length of storing depends on individual need of the tenant – we can accommodate any length of time; at HTSS we go on a month to month for billing and we are also able to prorate depending on move in and move out – ask for further information
Do I need Insurance?
Most storage facilities mandate to buy coverage and/or proof of individual insurance. At this time HTSS does not require proof nor offer additional insurance for items being stored, however we strongly recommend for every tenant to review their Homeowner's or Renter's insurance policy to ensure that the items in storage are covered.
What type of supplies do I need?
You will need to prepare with packing supplies in advance – we recommend that you use not more than 2 size boxes for easier storage, use wardrobe boxes, have plenty of packing tape, pad all breakable items, utilize old towels & sheets for padding, have bubble wrap available. HTSS has packing items for sale as a convenience to our customers.
You will also need a strong lock for extra security of your unit.
Do I need Climate Control?
Climate Control is advisable if storing home items for longer than a month as it will deter from building mold. At HTSS our facility is 67-74 degrees all year round just like your home.
HTSS also has Garage Drive up units available Non-Climate Controlled – and it simulates your home garage. You will be able to store vehicles, tools and any additional items that you know will not be affected by not having it climate controlled. Our units are very well insulated.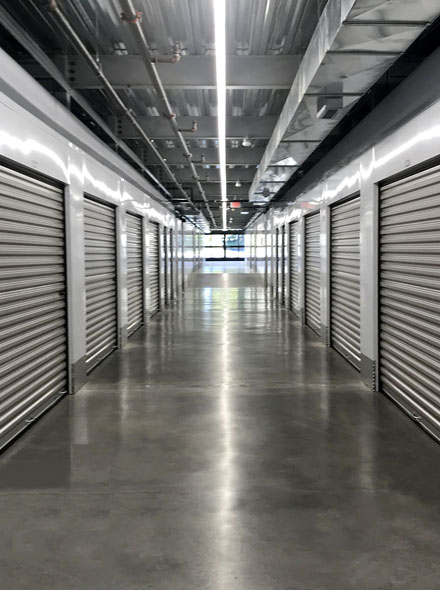 Unit Sizes & Prices
Hollow Tree Self Storage is here to help you with your storage needs in Darien, CT.
Storing Tips
1. Plan Ahead – storage facility, unit size and movers if necessary
2. Have a strategy when packing items
3. Choosing the right size unit
4. Prepare ahead of time with packing items
5. Label boxes/take inventory
Do not use more than 2 size boxes
Fill boxes but not with all heavy items
Pad breakables carefully
Use wardrobe boxes as needed
Use old towels and sheets for padding
Ensure to seal boxes with the correct packing tape
6. Do not pack any perishables – it will spoil and create bad odor on top of attracting bugs and rodents
7. Have organized unit for easy access to items
Maintain accessibility in unit – keep items that may be needed in the front and center
Have an isle for better access to items
Have glass and mirrors standing up not flat
Have shelving for better organization and access to items
Create inventory of items
8. Purchase a good, strong lock
9. Don't share your access code
10. Be aware of insurance mandated information with the facility
11. Be aware of facility's prohibited items and amenities
Do I need insurance to store?
At HTSS, we do not require additional insurance, but strongly recommend you check with your Home Owner's or Renter's insurance for coverage.
What are the agreement conditions in length of time?
Our billing cycle is on the first of every month. You are not committed to a specific amount of time as we go on a month to month basis, with a 10-day notice of vacating prior to the 1st of the month.
How does the access to the facility work?
The tenant is given a unique code upon the moving agreement is complete to be able to access the facility 7 days a week from 6am – 9pm. If additional access is required, we are able to accommodate as necessary.
What type of security is available?
Every unit is individually alarmed, Cameras are placed throughout the facility, Gate access is unique to each tenant, resident management on property and able to monitor during office hours and alarms after office hours, there is always a manager on call after office hours for emergencies and our Mobile App. allows view of unit activity. See management for more information.
Do you have Elevators and moving items available?
Yes, we have good size freight elevators that can accommodate all size items. As well as flatbed and bins to assist with moving items to and from the unit.
How does Truck usage work?
Our 10' box truck is available for new tenants complimentary for move in with a mileage limit. Tenants are also able to utilize the truck for other reasons and move out with cost associated, ask for further information if needed.
What is the height/dimension of units?
HTSS has over 30 different size units to accommodate the any need of the customers big or small. Height average of unit on the 2nd and 3rd floor are 9' high; the first floor varies between 9' – 12' in height depending on location of the unit.
What is Climate Control Units? What are the temperatures throughout the year?
All of our interior units are climate controlled, which ensures constant air flow throughout the building in order for the items to be in a neutral environment and prevent from items to mold or be ruined due to outside weather. Our temperature is between 67 – 74 degrees year-round just like your home! We also have Garage style drive up units that are well insulated but not climate controlled.
Do you have association with professional movers?
We are not associated with movers, however we do recommend local professional movers that we have worked with in the past and have received positive feedback from our customers. for more information, contact the office.
How does transfer of units work?
We are able to easily make transfers when the tenant is in need to upgrade or downgrade in size. It takes approximately 5-10minutes to process in the system for approvals.
What are the payment options?
Our tenants have the ability to choose from automatic payment, online payment, cash or check.
Do you have moving supplies available?
Yes, we have different moving supplies available in our office area. Such as boxes, tape, bubble wrap, moving blankets, locks ect..
How about Drop Shipments?
Yes, our tenants are able to send deliveries to the facility and our team will sign and store during office hours. The office must be notified in advance of shipment to ensure that it is received accordingly. We will then notify the tenant of arrival and hold for 24 hours or as agreed schedule for pick up.
How does Car/motorcycle/boat/trailer or RV Storage work?
Our Facility units are able to store motorcycles in either climate controlled or non-climate controlled units as preferred by customer. Car storage units are garage style drive up unit's non-climate controlled with option of outlets for trickle chargers. Limited Large outside parking spaces 10×20 or 10×25 are available for boats, rv's and trailers.
How does Commuter Parking work?
Commuter parking is available on a monthly or weekly rate – this would ensure an assigned parking spot to be used 24-7. If a daily rate is preferred, the customer needs to go through the BoxCar application. For more information please contact us or review http://www.boxcarapp.com/parking
What is prohibited to store?
Customers are not allowed to use storage space to store firearms, explosives, flammable liquids, contraband, toxic and/or hazardous substances, anything inherently dangerous or for any unlawful purpose. The storage of food and any perishable good is strictly prohibited along with the storage of any items which HTSS determines will create nuisance, noxious odor or presents a danger to public health or safety.
Is the facility sustainable?
Yes, our facility fully functions on sustainable energy. We have over 200 solar panels that are able to collect a large amount of energy to power the building throughout the year, minimizing carbon foot print and helping the environment.
Do to Covid-19 are you able to process move in remotely?
Yes we are able to process remotely via email and phone or in person, depending on the preference of the tenant.
What processes are taking place to ensure the safety of the customers and team members?
We are ensuring proper cleaning standards directed by the CDC. Sanitizing all keypads and high traffic areas, flatbeds, bins and elevators throughout the day, additional cleaning of facility, providing hand sanitizer stations in main entrances, utilizing social distancing standards and signs in all high traffic areas as well as extending our contactless entry Mobile App. to our tenants.